The general term for a professional banksman slinger offshore is a 'rigger'. A team of riggers will manage lifting operations. They are knowledgeable about how to set up lifting equipment to lift a load by crane. There are specific methods, pieces of equipment, and safety protocol for many different types of loads. Operations can be very dangerous and this position is a serious job.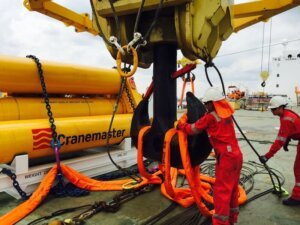 In the UK industrial and offshore industry, banksman training is required to co-ordinate large vehicle activities and heavy lifts. In the oil and gas industry, this is generally just for crane operations.
Slinging is attaching the correct lifting equipment to load for lifting, the attachments themselves are called 'slings' and strops, hence the name.
What is a banksman?
The banksman duties are to supervise and instruct the lift. For example, offshore, a banksman(person in charge of the lift) may be communicating between several riggers(supporting the banksman, managing the load with taglines) and a crane operator. The Banksman is the only person that communicates with the crane operator, to avoid confusion.
In Australia, these people are called doggers, and what they do is 'dogging', seriously!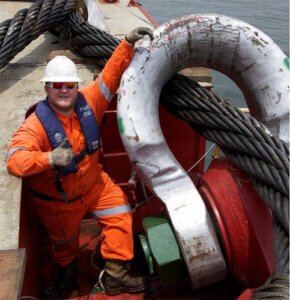 Banksman Signals
The banksman uses hand signals as well as a radio to communicate with the crane driver, in the case where there are no radios, then hand signals are the only method of co-ordinating the lift.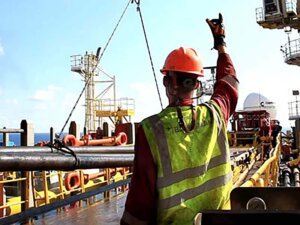 The hand signals do change from country to country, and so do the regulations within an industry.
Below is an example of banksman hand signals and their meaning.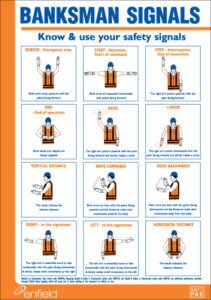 Is a banksman course useful for offshore jobs?
If you are looking to start a career in oil and gas, and you wish to learn and obtain a useful qualification quickly, then a banksman slinger training course is a good ticket to have.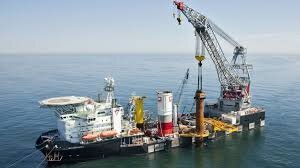 There are many banksman slinging / rigging jobs in the oil and gas sector. Offshore, most equipment and materials will arrive by boat and lifted by a crane. Crane operations are on-going every day.
Course Discounts
We don't currently have any discounts on riggers courses from any providers, but we do have BOSIET package discounts with providers that do the riggers course. If that applies to you, then check out our discounts page.