The Eng1 medical is the official seafarer medical and only MCA approved Doctors can award the certificate.
There are several practices that do the Eng1 in Aberdeen, and our recommended choice is Anchor medical on Union Terrace.
---
ANCHOR HEALTH SOLUTIONS
01224542249
use the Discount code OSC for 10% off
Not a lot but better in your pocket. Mention to the staff when you book your offshore medical.
---
Eng1 medical cost
Eng1 medicals can cost between £90 – £200 depending on where you get them. So if you can find one close to £100, this is a good price.
Who can perform the ENG1 medical?
Eng1 medicals require an MCA approved doctor. MCA means Maritime and Coastguard Agency.
ENG 1 medical overview
A standard examination will include:
Eye test (bring your glasses if you need them)

Colour blindness test

Hearing test

Ear and throat check

Measuring height and weight

Teeth and gums inspection

Hernia test (cough and check abdomen)

Questions on your medical history, drinking habits, etc.

Urine sample

Reflex testing

Listening to your heart and lungs, testing blood pressure and heart rate
Why get an ENG1 in Aberdeen?
In the oil industry sometimes both Eng1 and OGUK are required, depending on the country, due to Aberdeen being the Oil and Gas hub in the UK, Aberdeen is where you can easily find a qualified doctor.
The Eng1 medical certificate is for Yachts and the super-boats, not so common in Aberdeen with its terrible weather, but you can be prepared before heading out to a foreign marina looking for jobs.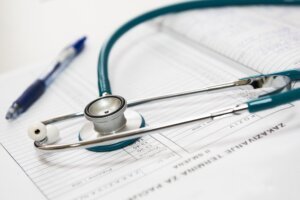 Other medicals in Aberdeen