RUK / renewables requirements in Glasgow
Glasgow is the largest city in Scotland and with the growing wind industry, there is an increasing demand for medical certificates for skilled workers. To work in the Wind turbine industry, you will need a RUK Wind turbine medical with the Chester step test.
RUK Wind Turbine Medical Cost
The price for RUK offshore medical is £130-£190 depending on where you go.
RUK Wind Turbine medical overview
A standard examination will include:
Urinalysis – routine urine test with immediate result

BMI – measurement of height, weight and calculation of Body Mass Index

Visual acuity (near and distance) and visual fields test

Pulse and Blood Pressure Measurement

Lung Function Test (spirometry)

Audiogram (hearing test)

Chester Step test
Other Medicals in Glasgow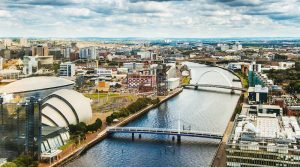 For offshore work, whether working on the wind farms, or on the oil/gas fields, there are a variety of different industry-specific medicals, see OGUK medicals in Glasgow, ENG1 and HSE diving medical, as well as Fit to train in Glasgow. As well as RUK renewables you can get these certificates from our selected provider.
Is this the only RUK medical provider in Glasgow?
You can check our OGUK medicals Glasgow page to see the list of providers, if this provider doesn't have availability, then you can work your way down the list to see who does RUK medicals.