RUK / renewables requirements in London
Being the capital of the country. The growing wind industry is increasing the demand for medical certificates for skilled workers. You will need a RUK Wind turbine medical with the Chester step test for working in the offshore wind turbine industry.
RUK Wind Turbine Medical Cost
The price for RUK offshore medical is £160-220, depending on where you go.
RUK Wind Turbine medical overview
A standard examination will include:
Urinalysis – routine urine test with immediate result

BMI – measurement of height, weight, and calculation of Body Mass Index

Visual acuity (near and distance) and visual fields test

Pulse and Blood Pressure Measurement

Lung Function Test (spirometry)

Audiogram (hearing test)

Chester Step test
Other Industry Medicals in London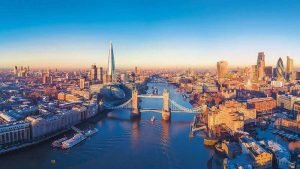 For offshore work, whether working on the wind farms or the oil/gas fields, there are various industry-specific medicals, including Fit to train, OGUK offshore medical in London, ENG1, and HSE diving medical.